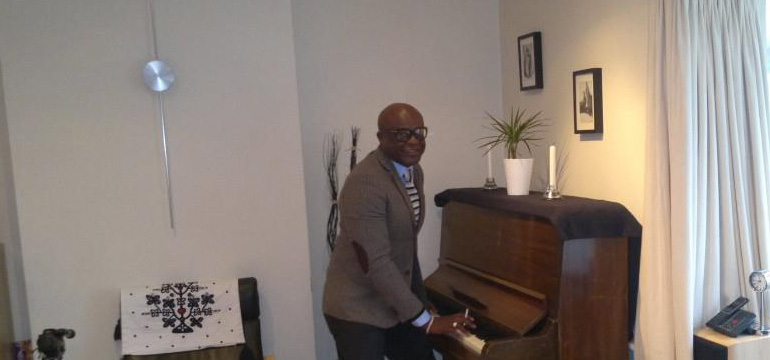 posted on
October 10th, 2013
| in
News
Henryson Balogun
Artist Management
Art, Artist Management and Music can be considered as one of the mediums that express human creativity and provide a glimpse to the human inner world, thoughts or personal views.
The people in the renaissance era were very creative and attempted to originate things that encompass the meaning of art.
Now, Art and Music has a very huge domain of interest such as visual arts, music literature, sculpture, writing, dress making, language and even food art.
All these disciplines of study have a significant place in moulding the human life.
I dedicated to my late Uncle, "Jimi Debayo-Doherty" otherwise known as "A Jimi Dodo" - The Black Sheep of the family and to me - the funkiest person in the world,
The owner of the nite club and named the BLACK PUSSY CAT I remember him driving around the Madia Vale - area of London with my older brother Toks and I, in a drop down convertible cars - Porsche 356B Cabriolet or his 1967 Triumph Spitfire two seater, up and down Hamilton Terrace, St John Woods, London England, NW8
I am currently managing - Dice Phoenix, Chudi James and Susanna De Brito Medeiros - From Finland
Family background

About my hertiage

My Grandfather
Theophilus Adebayo Doherty was a Nigerian businessman and politician who represented Lagos on the platform of the Nigerian National Democratic Party in the Legislative Council
of Nigeria during the nation's colonial era. In 1933, along with Olatunde Johnson and a few other businessmen, he founded the National Bank of Nigeria.
He also became a prominent member of the Nigerian Association of African Importers and Exporters, the association was designed to link African traders who depend on foreign firms for goods with overseas trading houses and also act as an African Chamber of Commerce.
In the 1940s, the association was a leading indigenous elite business group that negotiated trading concessions with the colonial government.
National bank of Nigeria, was the first successful indigenous bank in British West Africa.

My Great-Grandfather
Joseph Henryson Doherty was a Nigerian businessman who rose from an environment of poverty and enmity to create a successful merchandise trading firm. He was one of Nigeria's earliest true rag to riches stories.
Joseph Henryson Doherty was born in Lagos in 1866. He started his career as a clerk in a Lagos business concern and studied the art of business.
He left the firm later and started his own outfit as a small master trader in 1891. Then, he had a capital of 47 pounds with a location at the Alakoro district of Lagos.
Doherty's background made him more firm in his business conducts. He was considered a man of cautious disposition and studied with care every transaction that he was interested in.
Though cautious, he had foresight, and quickly learned various Nigerian commodities trade. Succeeding in trading Nigerian commodities, he gained the attention of an European firm.
The foreign firm lent him credit on a gradual scale starting from 1,444 pounds a year to about 48,000 pounds a year. The inflush of credit increased his trading revenues and led to increased wealth.
By 1898, he was already independent and was able to fund his own trading. He built up a business empire, based on meticulous attention to detail, uncompromising integrity and pure hard graft, he was known to scrutinise his accounts meticulously and as they say "follow every penny".
By 1899, his business had flourished to the extent of his opening branches of his enterprise in Alakoro- Lagos, Oshogbo, Zaria, Lokoja and Kano. He epitomised the true qualities of integrity, hard work and honesty which to a large extent was fairly typical in Nigeria at the time.
Through careful management of the business, he was able to operate independently as a direct importer from 1898.
He dealt in cotton and silk goods, hardware and other imports. With the expansion of the business, he was able to establish branches in the hinterland of Lagos Osogbo, Lokoja, Zaria and Kano.
A notable feature of Dohertys career was the investment in the education of his children, all of whom were sent abroad for university education: In England for a degree in Law and another to Fourah Bay College in Freetown,
Sierra Leone (an affiliate of University of Durham in the United Kingdom) for a degree in the Humanities to prepare him for succession to his father in the family business.
Ultimately, this was an exceptional success story in business succession.
He was one of the first Africans to be re-admitted into the Lagos Chamber of Commerce when it was desegregated in 1921.Great Great Gran mother LATE MUMMY HELENA F. DOHERTY