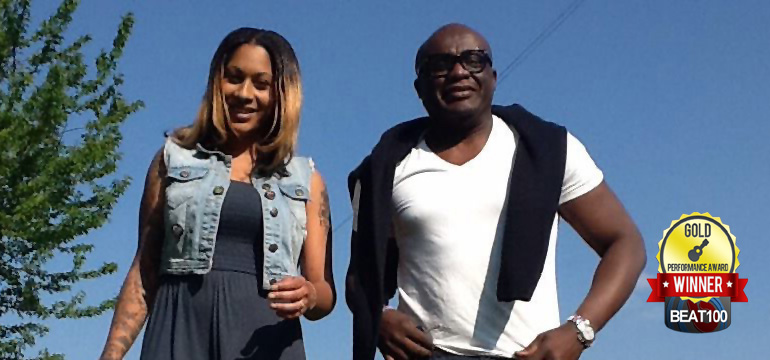 posted on
October 10th, 2015
| in
News
Dice Phoenix - Bio
Candice Thomas-Talsania also known as 'Dice Phoenix' has come from a musical background as her mother was a known Jazz singer.
Performing at the Jazz cafe, The Ryan gold club, Lipton agency, Party and with the stars/midnight in Paris etc.
Dice's mother has always been proud of her little girl and has seen her grow up into a mature woman. Carol always had faith and believed that one day her little girl would make it and carry on in her footsteps.
Unfortunately Carol couldn't continue her dreams for a few years as she had a terrible car accident. which then lead onto Dice becoming a young carer; taking on responsibilities that a mum would have at such a young age, however that didn't stop Dice from perusing her dream.
Her mum quoted:" She was a good quiet baby , as she was growing up she became a very popular lovable little girl , she's so caring and has a big heart and she will do us all proud . Whenever we had parties nearly her whole year group would come we was so delighted to see my girl happy.
Dice really explored and blossomed in her singing/song writing in church alongside performing and acting in venues such as wembley conference centre and church concerts, which lead to joining diamond stone record label at the end of 2003.
Dice then parted ways with diamond stone and further went on to work with Skata records in 2004 releasing her first single "stranger" on the skata your brain mix tape.
Although Dice's childhood was one with responsibilities of an adult , she treasures her upbringing, happy memories and closeness with her mother and siblings .Dice went through a rough patch during her teenage years , raising her two sons as she learnt valuable lessons through natures way of being a total b*tch!!! Cupid wasn't very fair with the matchmaking either but that's and autobiography in itself!
Believing she can reach people with her music and experiences having a positive impact to their lives, to be an inspiration to our next generation to make them believe and know that we can teach ourselves to be more than expected of us! Not falling into society's stereotyping and poverty, most of all for her sons.
Dice was used to a life of repetitive challenging and terrible relationships, which she refused to settle for; Creating a new and COLD Dice. Dice was saved by her angel in disguise, warmed up by her knight in shining Armour Henryson Balogun.
Dice got back to producing this hot track. Inspired by their "Real love" she produced this track called "GO" with the help of George and Henryson Balogun
Look out guys she's back!
Description
Follow me on twitter @officiallyDICE
Or
Management/Label
Henryson Oladipo Hakeem Balogun
HenrysonBalogun Music Inc Limited
Who represents Award winner Dennis Rubenstein in Europe

@henrysonbalogun
ipad@henrysonbalogun.co.uk

Description
The New track would be out son on itunes : - http://www.cdbaby.com/cd/dicephoenix