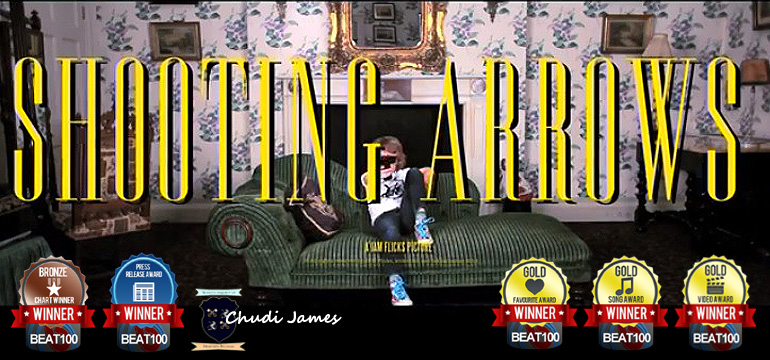 posted on
October 10th, 2013
| in
News
Chudi James - Bio
Stage name: Chudi James (Rock Artist)
Chudi James Okoye, was born in Hackney, London.
A British Singer, song writer, dancer and the front man, lead singer of the UK band 'Fight or Flight'. From the tender age of 7, Chudi already knew he wanted to be a performer when his attention caught the likes of the artists who had it all, the musician, recording artist, singer, dancer, band leader 'James Brown'. After listening to and watching 'James Brown', Chudi compared him to the greatest performer of his time 'Michael Jackson'. Chudi knew that his journey in music, other than his love for the Blues harmonica, was not as a musician or to do anything that would restrict him from the freedom of performance that came to him naturally.
As a child, Chudi loved to dance and at the age of 16, he had his first break in a West End club where he battled with other dancers. Word quickly made its way around and a top talent scout soon offered him a job dancing in a music video for a popular UK artist of the time 'Jamelia'. From there he began a solid and exciting career as a backing dancer for many top artists including 'Mariah Carey', 'Kylie Minogue', 'Mel B', 'The Spice Girls' and many more.
Chudi always hated the feeling of being restricted and rebelled anytime he had this feeling. He idolised 'Prince' not only for his performance ability but his capability to write in any style and express himself without restrictions from what was expected of him. Writing lyrics was an important thing for Chudi, 'Led Zeppelin' also played a big part in Chudi's lyrical craft. 'Robert Plant' helped Chudi develop his music and lyrics from the conventional way of writing, to a more poetic, philosophical approach. 'The Good, The Bad and The Naive' still remains, to this day, Chudi's best lyrical work inspired by Led Zep. In 2000 Chudi recorded his first song with an R'n'B producer who later told Chudi that he did not feel he had a real R'n'B voice, which broke his confidence down for some time. At this low moment it dawned on Chudi that all of his true musical idols he followed closely were in fact not from the world of R'n'B, but from the world of Rock and from then on he began to explore this style. "Most urban artists who idolise Michael Jackson copy him in the manner of an R'n'B Pop Star. I never saw Michael Jackson as an R'n'B Pop Star but as a Pop Rock star, just like Prince and I plan to make Rock music I can dance and perform to"
Knowing that in order to truly create this style of music he would need to form a band. He eventually met 'Federico Lozano', a Mexican born guitarist, who came to London for a short stay. Chudi and Federico connected immediately, they began jamming and making music. Together they developed their new sound - combining Chudi's history of music and percussive understanding and Federico's musical talent for Blues and Classic Rock. 'Shooting Arrows' was the first release.
'Shooting Arrows' describes a soulless yet attractive London club scene. Flirting, showing off and one night stands are all part of social night life and Chudi wanted to highlight that in his song, using a metaphor of Cupid and his gun, "not looking for love just shooting arrows." Most of Chudi's songs depict a London scene from his own personal experiences. "I like to use a lot of metaphors to exercise the imagination. Sometimes you might listen to one of my songs, thinking you are hearing one thing but if you listen closely you might find I could be talking about something totally different."
In 2011, Chudi was contacted by 'Mitch Kalisa' & 'Joshua Trigg', Directors at 'Jam Flicks' They heard the song 'Shooting Arrows' through a friend and was keen to shoot a video for the song. Chudi's aim was to create a timeless video and for the viewers to appreciate the music before himself, so Chudi used the directors younger brother 'Beau' to star in the video as Cupid gone bad, only interested in having fun and partying and no time for finding love, though he constantly seems to attract it! In 2012 they found additional members and formed a rock band 'Fight or Flight', which consisted of Chudi on lead vocals, Federico on lead guitars, 'Lyle Moxsom' on Bass and 'Greg Neilson' on drums. 'Fight or Flight' had a combination of hard hitting riffs, catchy hooks inspirational lyrics and a front man performance to bring everything together. With a great start they headlined the legendary 'Scotch of St James' in London, known historically as the meeting spot and first appearance for many great musical icons.
Now, with a music video 'Shooting Arrows' currently causing a stir in the music industry, No2 in the beat100 Rock Chart and with the most views accumulated in the World Chart and just won 3rd place on the World, the impact is a statement that Chudi is ready to take on the world
Now managed by Henryson Oladipo Balogun of HenrysonBalogun Music Inc Limited, who is mentored by Dennis Rubenstein - (Award winner as Manager and Tour Management for band like Aerosmith, Tina Turner, Ike Turner, ZZ Top and host of others.)
On winning 3rd Chudi was asked to comment of his winnings and these were his thoughts.
1) Who are your main musical influences?
For many other aspects though primarily musical, a lot of what I'm about has come from a deep interest in James Brown, Prince, Michael Jackson, Bobby Womack, Robert Plant (Led Zeppelin), Bob Dylan, The Rolling Stones,
2) What is your biggest achievement?
I have achieved a few of my personal challenges, that might seem a success to others but I believe giving up everything I was doing or creating for myself in the past to do one thing a really love, well, is yet my greatest achievement. Now with an album soon to be complete, a strong single and video ready to push out there, I look forward to seeing how greater my achievements will take me.
3) How did you find BEAT100 and has it been an enjoyable experience for you?
Soon after joining my management, the first thing my manager Henryson Balogun did was to put my video on BEAT100, Which was a good decision because the response, exposure and opportunities that has come from our time in the charts has truly been over whelming.
4) What inspired you to become a musician and how did you get to where you are today?
Performance played a great part in my life growing up. I've always been fascinated by musicians who can perform, I believe these two things are as important as each other if I want people to deeper understand my music. I was drawn to the Artists/Musicians who can connect with people and express what they feel visually as well as musically. James brown began that journey for me. Watching Prince helped me relate more to where I was heading. I enjoy the most playing the harmonica and love the creation of music through the guitar, though I felt it always seemed to restrict me in the area of my performance. The more my writing and musicality developed, I began to realize what style of music I really connected with and would now use to express myself with. 4years ago I had an idea, a music concept that made me want to give up everything I had and was doing at the time, to make happen. So I did!
I was always a believer of the philosophy, if you know what you want to do, do it well or don't do it at all. I met Federico Lozano (Guitarist) outside a club only days before he came into London from Mexico. He wasn't too sure of where to stay and I needed a flat mate at the time. It also happens that he had a great musical understanding for Blues and Classic Rock from the earlier years. With the way I grow up to understanding Soul, Blues and Rock music living in London, our history and backgrounds, as different as it was, molded together. We spent years literally in my basement, with not much more than a guitar, harmonica and a laptop on record 24/7, Jamming away, making song after song, a library of songs waiting to be released to the world. Platforms like BEAT100 are helping it become more possible to get hard working musicians recognized and keep faith in a truth, that with great sacrifices bring great rewards.